13th AFRICA & ARAB COUNTRIES REGIONAL CONFERENCE

13th AFRICA & ARAB COUNTRIES REGIONAL CONFERENCE
A West African country, Togo is located between Ghana in the West and Benin in the East and borders Burkina Faso in the North while in the South it is bordered by the Gulf of Guinea. The country is divided into five administrative regions: Maritime, Plateaux, Central, Kara and Savanes.
Area: Togo covers an area of 56,785 km2
Capital: Lomé
Population: 7,338,000
Main cities: Lomé, Dapaong, Kara, Atakpamé, Sokodé
Head of state: Faure Essozimna Gnassingbé (since 4 May 2005)
Prime Minister: Selom Komi Klassou (since 10 June 2015)
National holiday: 27 April, Independence Day
Currency: CFA franc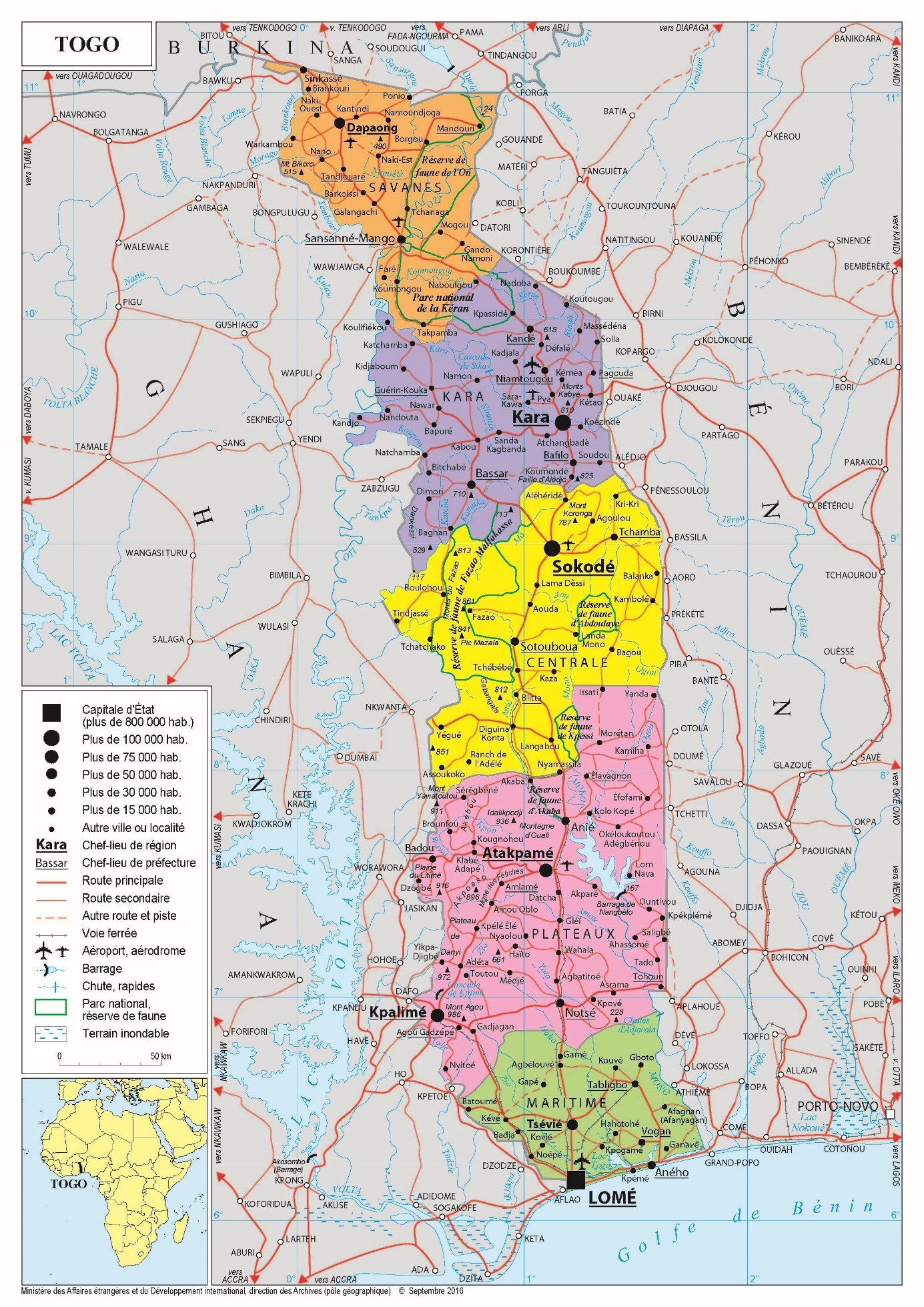 UNDERSTANDING THE CONFERENCE
AFRECON (Africa and Arab countries Regional Conference) is the highest decision-making body of PSI Africa and Arab countries.
It is organized every 5 years.
AFRECON is a high-level platform for:
Adoption of a Programme of Action (as guided by the PSI Global Programme of Action) 
Endorsement of resolutions for steering the political, technical and administrative affairs of the region
Election of political leaders for the Region and Sub-regions (incl. women and young workers)
Workshops and seminars to equip participants to understand current trade union campaign issues
Sharing of high-level solidarity messages in support of workers going through crises across the region
Pushing forward and charting a new path for the agenda of working people all over the world
Conference theme: People over Profit! Public Services Over Corporate Greed
Build a broad-based alliance to connect existing state-wide and local organizations in support of PSI campaign against privatisation of public goods.
Push a common agenda directly aimed at confronting corporate power in our state and reclaiming our economies.
Promote a campaign for international and national tax systems and trade that reduce inequalities.
Develop and Strengthen Trade Union's capacity to engage IFIs, Multinationals, Government and Employers to place public interest above private Interest
Workshops and Seminars:
Download the app or go to the website (http://afrecon.world-psi.org) to get all the information and documents on Conference and workshop topics and venues.
Conference rules
AFRECON participants are expected to:
Adhere to these conference rules
Be regular and punctual
Participate in meetings and workshops
Promote and support resolutions and programme of action
Show solidarity
Register to speak by filling in the appropriate form
Download the conference app for all documents related to AFRECON (the app also provides a digital platform for interaction during the conference)
Be polite and respectful of the views of others
If in doubt about anything, approach PSI staff
Where to find what…
AFRECON and related meetings will be held in:

HOTEL 2 FEVRIER
Independence Square
Lomé, Togo
Telephone: +228 22 23 23 86 00
E-mail: reservations@hotel2fevrierlome.com
Website: www.hotel2fevrierlome.com
Buses will be available daily to provide transfer service from participants' hotels to the hotel 2 Février throughout the conference.
Located in the heart of the Togolese capital, the 2 Février hotel is a skyscraper in the city of Lomé. 
The main local attractions are the Monument of Independence (3min by foot) - the National Museum of Togo (4 min by foot) - the Beach of Lomé (17 min by foot). It is one of the emblematic monuments of the Togolese capital. Culminating at 102 metres, it is the highest building in the country built on 27 floors with a sky bar on the top floor where you can see the whole city through large bay windows (non-smoking area). Next to it, the Asian gourmet restaurant also offers a 360° panoramic view of Lomé. On the 2nd floor, the Akwaba Grill is a very pleasant place around the pool to enjoy cocktails, grills and pizzas in the open air.
In addition to the Conference centrel, several hotels have been booked for accommodation for participants and are located a few kilometres away. Buses will be available throughout the conference to provide daily transfer from participants' hotels to the Conference venue, Hotel 2 February.
Hotel SARAKAWA**** (6.7 km)
Boulevard Du Mono, Lomé
Tel: (+228) 22 27 27 65 90 

SANCTA MARIA**** (6km)
Boulevard du Mono, Lomé
Tel: (+228) 22 22 92 92 92 / 22 22 22 93 93 93

HOTEL ONOMO**** (5.5km)
Boulevard du Mono, Lomé
Tel: (+228) 22 53 63 00

Hotel du GOLFE*** (1.8km)
10, avenue Sylvanus Olympio, Lomé
Tel: (+228) 22 21 65 45

HOTEL PARADISE*** (1.5km)
1581 Bld of January 13th Nyékonakpoè
Tel: (+228) 22 22 34 77/22 22 37 37 58

The check in is at 14:00 and the check out at 12:00. Late checkout must be negotiated in advance and may incur additional costs.

Participants not sponsored by PSI should contact the hotel directly to make their own bookings (mentioning AFRECON and PSI). Please be aware that pre-payment of the reservation might be requested by the hotel as a guarantee.
Non-sponsored participants should inform us as soon as possible about the hotel they will be staying at so that they can be included in the transportation from the hotel to the Conference venue in the morning and back from the Conference venue to the hotel in the evening.

Gnassingbe EYADEMA International Airport is the main arrival airport for all participants. After landing, airport buses will take you from the plane to the arrival hall. On entering this hall, you will first pass the health checkpoint (yellow booklet or any other document in its place). After this check, you will join the queues in front of multiple immigration counters.
All hotels offer a free transfer to participants except hotel 2 February which charges 15.6 euros per person.

Hotel Sancta Maria invoices transfers after 22h00 at 10.000 f.

PSI and Togolese affiliates will also provide additional buses to ensure the transfer of participants to the various hotels.

For arrival by land, the entry points are: Aflao (Togo-Ghana border), Sanvie Kondji (Togo-Benin border) and Cinkassé (Togo-Burkina border)
Visa and airport formalities
ECOWAS nationals (Benin, Burkina Faso, Côte d'Ivoire, Gambia, Ghana, Guinea, Guinea, Guinea-Bissau, Liberia, Mali, Niger, Nigeria, Senegal, Sierra Leone, Togo) do not need a visa to come to Togo. A valid passport or national identity card is sufficient.

Non-ECOWAS nationals must be in possession of a biometric passport or a valid pass for at least six months with a photo of the holder and a visa.

On behalf of AFRECON, affiliates have approached the Ministries of Security and Civil Protection, Foreign Affairs and... as well as the Ministry of Civil Service, Labour, Administrative Reform and Social Protection to grant a courtesy visa to all participants. The signed document will be sent to all affiliates through their sub-regional secretary and to all guests by Valerie Malm.

This document will allow each participant to obtain a visa for Togo at border crossings and at Gnassigbé EYADEMA International Airport from 09 to 16 November 2019.

After this date, it will be possible to have the visa extended at the Foreigners and Passports Department. Contact Evariste ADETSU (PSI).

It should be noted that an international driving licence and a customs carnet are required for vehicles to enter at land borders.
Participants should be sure to have their vaccinations up to date. Check with the nearest Togolese Embassy or Consulate to know the exact requirements. Yellow fever vaccination is recommended, as well as anti-malaria treatment.

Malaria is present all year round throughout the country and protective measures against mosquito bites (creams and sprays) must be taken. 
There will be a medical support unit at the conference venue. All hotels have their own doctors and we have requested that on-call service be provided during the conference period.
In case of problems, please contact PSI Staff at any time, or contact the hotel staff. 
Participants with chronic health conditions and who are on regular medication should bring along sufficient quantities to last during the period of the conference. It is strongly recommended that adequate medical insurance is taken by participants to cover them for their visit.
The climate in Lomé is warm and tropical with a temperatures ranging from 26.8 °C to 34°. There may be small showers at times.

In November in Lomé, the days last on average 11h50. The sun rises at 05:45 and sets at 17:35.
Togo observes GMT/UTC + 0 Standard Time year round.
Voltage is 220 in Togo, with a frequency of 50 Hz and type C plugs. These sockets are compatible with the plugs of your devices. The chargers for tablets, laptops, cameras, mobile phones, electric toothbrushes are almost all usable in Togo. Type C plugs can also be used with E and F plug.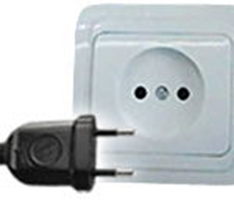 Figure of type C socket and plug

We recommend you bring a universal plug adapter.
The current currency is the CFA Franc. All hotels have a cash machine that will allow you to withdraw and pay for your hotel room. Payments can also be made by Visa and Mastercard credit card. A small supplement is often charged for this purpose. Foreign currencies (the euro and the US dollar) can be exchanged without difficulty in hotels and at banks in the area.

In retail, card payment is not common although it is available in some major department stores and restaurants. Beware of pickpockets in town and especially around large shops.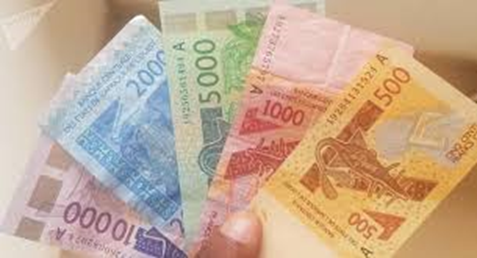 Above, 10,000, 2,000, 5,000, 1,000 and 500 franc banknotes.
There are also coins of 500, 250, 200, 100, 100, 50, 25, 10, 5 and 1 francs.
Although Lomé is a safe city, like other major African tourist cities, there may be minor offences. Therefore, pay particular attention to your personal belongings, especially when walking on the street, in a tourist area or in a public place. Any security problems or concerns in the AFRECON area should be reported to hotel or PSI staff. If you are outside the event area, please go immediately to the nearest police station or call 161 or +228 22 21 28 71.
Police 161 ou le +228 22 21 28 71.
Firefighters 118 ou 22 21 67 06

Gendarmerie Nationale 117 ou 22 22 21 39
Interpretation/Translations
Simultaneous interpretation will be available for the Conference and related meetings in French, English and Arabic. Documents for the various meetings will be translated into Arabic, English and French.
Voting will take place according to the PSI Constitution (Annex 4: Congress Rules/Standing orders). The head of delegation will receive ballot forms for "card" votes and all delegates will receive voting cards for "show of hands" votes.

The PSI Constitution provides for voting by proxy. Unions that are unable to attend the Conference should nominate another participating union from the same constituency to cast the proxy vote and inform PSI in writing by 14th October 2019.

"… Any affiliated organisation unable to be represented at Congress may authorise the delegate of another organisation from the same sub-region to represent it. Such authorisation shall be valid on condition that the General Secretary of PSI is informed of it in writing four weeks in advance by the organisation giving authority. No organisation may exercise the proxy votes of more than three other organisations…"
Affiliates can send in resolutions for deliberation during the conference on or before 15th May to the Regional Secretariat (email: sani.baba@world-psi.org and valerie.malm@world-psi.org). Please note that these resolutions must deal with specific events concerning the country, sub-region or region that have occurred during 2018-2019 since resolutions adopted at the last PSI Congress or previous AFRECON are still relevant.
According to the PSI Constitution, in Annex 4 "Congress Rules/Standing Orders":

"The travel and subsistence expenses of Congress delegates and observers shall be borne by the organisations which they represent. The Executive Board may extend financial assistance to delegates from countries below the 100% index out of PSI funds. This assistance aims at enhancing democracy and participation. It is conditional upon the good financial standing of the applicant organisation according to Article 4, "Affiliation Fees". Applicant organisations must comply with the principles of diversity and sectoral representation outlined in Article 5.2, Diversity and sectoral representation."

PSI sponsorship is a solidarity tool: it entails financial assistance for those affiliates which experience genuine and exceptional difficulties in sending representatives to a PSI event. Due to financial constraints, PSI can offer a very limited number of sponsorships. 
Affiliates will be considered for sponsorship on the following conditions:
Affiliates who cannot afford to send a representative to AFRECON will have priority, on condition that they have fulfilled their financial obligations to PSI by 1st July, up to and including 2019 affiliation fees. This means either paying affiliation fees, or asking for exemption, reduction, etc. on time.
Affiliates who have paid regularly, entirely and in due time during the last three years (2017 to 2019 inclusive) have priority;

Affiliates who respect the principle of equal representation between men and women in their delegation, in accordance with PSI Constitution, have priority;
PSI will also ensure that the sponsorship allocation respects the principle of equal representation between men and women within the delegations. The final decision regarding sponsorships will be communicated to you mid-September 2019.
To ease the registration process, each union will be requested to pre-register a main contact person before 15th May. Once the union participation's conditions have been checked, a special link will be sent to the contact person so that she/he can fill a proper form for her/his union's delegation.
If you have not pre-registered a main contact person for your union yet, please do so BEFORE 1st July. This is very important and be aware that without pre-registration before that deadline, you will not be able to get the link for registration.

Deadline for on-line registration: 9th August 2019. After that date, registration will be closed.
On-line pre-registration - 15th May
Resolutions to be sent to Regional Office - 15th May
Final on-line registration - 9th August
Sending AFRECON final documents to participants - mid-August
Submitting proxy votes - 24th August
Sponsorship confirmation by PSI Secretariat - mid-September
Sending hotel confirmations to sponsored participants End of September
We remind you that different type of registration will be possible: Head of delegation (which counts for one delegate), Delegates, Observers and Union visitors.

Delegates
According to the PSI Constitution (Article 6.6), unions are entitled to send a specific number of delegates to Congress, based on payment of affiliation fees. These entitlements also govern the union's voting rights. The same rule applies for AFRECON. Voting rights will be based on 2015-2019 inclusive (5 years).
"… Affiliates' representation is based on the following schedule. Each gender should be equally represented where there is more than one delegate unless this is not feasible due to very significant over-representation of one gender within the affiliate's membership.

1 delegate up to 5,000 members
2 delegates from 5,001 to 10,000 members
3 delegates from 10,001 to 20,000 members
4 delegates from 20,001 to 35,000 members
5 delegates from 35,001 to 50,000 members
6 delegates from 50,001 to 100,000 members
plus one delegate for each additional 50,000 paid-up members and/or part thereof…"
Observers
According to the PSI Constitution, (Annex 4: Congress rules/Standing Order), unions are entitled to send a specific number of observers to Congress, based on payment of affiliation fees. The same rule applies for AFRECON.
"… Affiliated organisations may send observers on the basis of one per 100,000 paid-up members and/or part thereof. Each gender should be equally represented, where there is more than one observer, unless this is not feasible due to very significant over-representation of one gender within the affiliate's membership…"

Visitors
Any other union representatives will be considered as "visitors". "Visitors" are those participants who have neither delegate nor observer status, either because their delegation entitlement has already been filled or because they represent a non-affiliated organisation.
Fédération Nationale des Syndicats des Services Publics (FENASSEP)
B.P. 118
Lomé
TOGO

Syndicat national des praticiens hospitaliers du Togo (SYNPHOT)
BP 7903
Lomé
TOGO
Web: www.synphottg.org