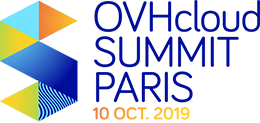 Welcome to the OVHcloud Summit 2019 lab registration page!

To validate your registration:

- Select the session(s) you are interested in, fill in the form and validate!


Please note: You must have a laptop with a recent browser and an SSH client to be able to participate in a session.
Terms & conditions : the data communicated via this form is collected with your consent and is intended for OVH S.A.S., in its capacity as data controller. Data may be transmitted to its subcontractors acting on strict instructions from OVH SAS and to the entities of the OVHcloud. The data are collected to manage your participation to the OVHcloud Summit 2019 and are stored for a period of ninety (90) days following the event for communication of information in connection therewith.